NCAA Division 1 basketball season officially starts on November 6th. In this edition of college basketball, Serbia will have the most players among European countries, by far. 39 of them are coming from Serbia, to be exact.
8 of them will be Seniors this year, 9 will play as Juniors, 8 are sophomores and 14 are freshmen and will play their first D1 season. In this article you will read about NCAA D1 newcomers from Serbia in upcoming season.
Filip Petrušev, '00, 6'11, PF – Gonzaga Bulldogs 
Top prospect of '00 generation will play for Gonzaga University this season. Petrusev had successful summer, won back to back European Championship with Serbia u18 NT and was selected in All-tournament team. Averaged 21 pts, 8.7 rbd and 1.3 blk- which made him third scorer and rebounder of the tournament. Also had excellent season with MontVerde Academy, won National HS Championship and played important role in team. Zag's big man is real force in the paint with excellent skillset who can also score from outside. With his game he should fit in with team fast. It will be interesting to see him fighting for his minutes in freshman season.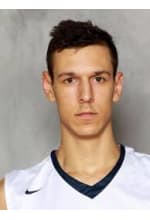 Uroš Plavšić, '98, 7'1, PF/C – Arizona State Sun Devils 
Ranked #4 in his generation, definitely one of the breakout prospects this season. After he won National Championship with Hamilton Heights Christian Academy, signed for Arizona State who plays one the strongest conference in NCAA Pac-12. 7'1'' forward improved his body during this summer, ready to play against some of best forwards in the league. His versatility is something unique for players with his height. In past few seasons he showed that he is able to make shots from mid and longe range, also has good passing ability and court vision. This will be his biggest challenge in his career. If he responds to his challenge good he might be considered as one of the top Serbian prospects in NCAA.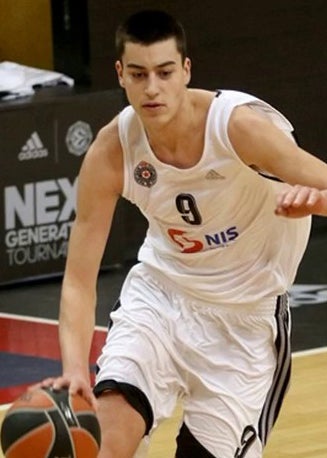 Aleksa Popović, '99, 6'8, SF – Cleveland State Vikings
Popović was high level athlete in Serbian u19 league, ranked #14 in his generation. Player who could fit in perfect in college hoops. Good team player who plays better in good environment, not kind of player who can be leader of the team. Great in transition game, has no problem to dunk in traffic thanks to his athleticism. Averaged 13.9 pts last season with good fg percentage. Very useful in defense, averaged 6.2 rbd, 1.5 blk and 1.1 stl. Seems like he is starting to improve his body, might be very interesting player to watch this season. 
Ivan Hadžić, '98, 6'8, PF – Canisius Griffins 
After many seasons playing for Partizan as one of the best players in youth competitions, Hadžić finished Southwest Christian Academy last season, ranked #14 in his generation. Had little bit struggles, but manage to sign with Metro Atlantic Athletic conference champs. His role in the team should be to play stretch four who can help around the paint on both ends. Still working on improving his body. Player with European style, expected to have professional career in Europe after college. 
Nikola Jerotić, '98, 6'7, SF- Albany Great Danes 
Jerotić had great role playing for Southwest Christian Academy last season. Ranked #13 in '98 generstion. First signed for Southern Mississippi, then was transferred to UAlbany. This summer was on Serbia u20 NT long list. SF with great athleticism who can shoot from long range. Can be very useful on both ends because of aggressive defense and transition game. Excellent example of role player who brings the result with his effort on the court.
Aleksa Matić, '99, 6'4, SG – North Alabama Lions
At the moment ranked #20 in '99 generation. Matić will play for the newcomers in NCAA DI next season. After winning European Championship u18 with Serbian NT, he played for KK Radnicki senior team in 3rd Serbian league and had good season. Sharp shooter who can score form long range and different situations. SG with excellent spot up shooting. Expected to have an important role in his freshman season. 
Simeon Jović, '98, 6'8, PF- South Dakota Coyotes 
Ranked #18 in '98 generation. Didn't play his first season in USA as it was expected, but managed to sign for D1 college. Last season played for Southwest Christian Academy. Was part of Serbia u16 NT in summer 2014. Flexible forward who can run the floor and shoot as well. Good looking athlete with solid athleticism. He will have to earn minutes in his freshman season, but can be very useful for his team in time.
Stevan Krtinić, '99, 6'5, SG- St. Francis Brooklyn Terriers 
Combo guard who is ranked #21 in '99 generation. Last season was leader of Carnegie Schools-Riverside. Krtinić had impressive season, he was selected to the Division 4A First Team by the California Interscholastic Federation– Southern Section. Versatile shooter with smooth hand who also handles the ball very well. Terriers should get quicker basketball and better shooting percentage next season with Krtinić. Expected to get his chance in freshman year and find his role in the team.
Lazar Škorić, '99, 6'3, PG – Fordham Rams
PG with good basketball CV, played for Unicaja Malaga in Spain, last season in Serbia was member of KK Beko who took fourth place in Roda u19 Serbian league, ranked #24 in '99 generation. Škorić was one of the top 10 scorers in the league. Player with good offensive and defensive awareness, aggressive defender. Able to score from downtown, but much better shooter from mid range zone. In his freshman season, he will probably have role of back up PG who can bring lot of energy for his team. 
Miloš Stajčić, '99, 6'9, PF/C – Campbell Fighting Camels
Player who can play on positions 4 and 5, ranked #16 in his generation. Last season played for FCA High School where he averaged around 13 pts, 8 rebounds and 3 dimes. Chosen for 2018 N.C. Independent Schools East-West All-Star game. Moves fluidly on the court for his size. Strong in the paint, but also can shoot from outside. Seems like he has improved his long range shooting from last season. Camels will have remarkably reinforcement on both ends this season.
Filip Rebrača, '97, 6'8, C- North Dakota Fighting Hawks
Rebrača played for Williston Northampton High School last season. Player who posses basketball in his genes- son of former NBA player Željko Rebrača. Flexible and very athletic C. He can handle the ball and score from outside. As he is older than other freshmen, it will be hard for him to earn minutes. North Dakota got two more European freshmen beside Rebrača signed for this season. Seems like they are trying to build team connected with European style, so there might be some space for Filip to prove himself. 
Aleksandar Sasha Stefanović, '98, 6'4, SG – Purdue Boilermakers
Stefanović will play this season as a redshirt freshman for Purdue Boilermakers. All eyes have been on him since his senior year in Crown Point High School. As one of the best shooting guards in the country, he was invited last year to Serbian NT training camp in Denver for the best Serbian players who play in USA. Versatility in his shooting is one thing that separates him from other players in the team, especially from long range. Beside shooting, athleticism is also his strength. Has quick moves and good lateral quickness. Head coach of Serbian senior NT and basketball legend Aleksandar Đorđević is following him and he even visited him at Purdue's practising facilities this year. Everybody is waiting for Stefanović to step up on the court. With his versatility and shooting he should be the difference maker for Boilermakers in time. 
Đorđe Dimitrijević, '97, 6'2, PG – Mercer Bears
6'2'' PG was transferred from Western Nebraska to Mercer University, so he will play for Mercer Bears as a Junior this season. Not a Freshman, but D1 basketball newcomer anyway. One of the best PGs in Serbian youth leagues, MVP of Serbian u17 league. Last two season was starting PG for Western Nebraska, averaged 13.6 pts, 2.4 ast and 2.6 rbd. Player with natural scoring instincts who is always able to find open teammate in good position to score. Excellent ball handling and versatile shooting are things that make him tough to guard beside his quickness. Great P&R producer, high percentage of scoring from P&R. Bears got confident PG who can lead the team and take the responsibility in any moment. Expected to be one of the better PGs in his conference. 
Other notable newcomers for 2018/19 D1 college season:
Nikša Nikolić, '95, 6'8, PF/C – Iona Gaels
Andrija Ristanović, '98, 6'11, C – Iona Gaels
Miloš Apić, '98, 6'10, C- Long Beach State 49ers
Aleksandar Zečević, '96, 6'10, PF/C- Florida Atlantic Owls
Check out our full list of Serbians that will play for D1 colleges in season 2018/19 here: https://serbianprospects.com/ncaa/